The SCORE project participates in the event BRIGHT – European Researcher's Night with MarinaCraft, a SCORE pilot activity in the Environment-based action (EBA) training schools. Citizens will have the opportunity to implement EBAs playing with a Minecraft virtual replica of the coast of Tuscany.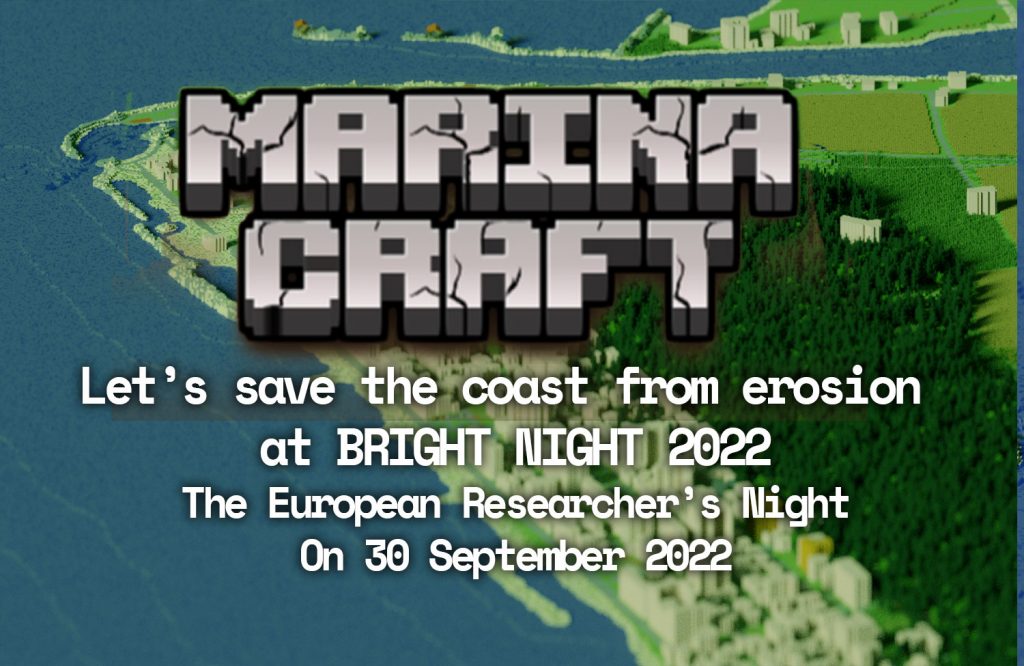 There is no planet B: this is the title given to one of the pavilions of the BRIGHT event, the European night of researchers 2022, which will be set up in Piazza Dante in Pisa on September 30th. In this stand, it will be possible to learn about the many initiatives of Pisan researchers aimed at safeguarding the environment and the climate.
A team of researchers from the Information Engineering Department of the University of Pisa, MBI Srl and University College of Dublin will be present at the stand "Come and play Minecraft against climate change!" where the SCORE and INSIDERAIN projects will be presented with the aim of combating climate change in coastal cities and in agriculture.
It will be possible to play MarinaCraft, a special edition of Minecraft set in Marina di Pisa in which young researchers will be able to obtain a diploma by designing innovative solutions to save the Pisan coast from erosion.
MarinaCraft is a pilot project part of SCORE's EBA training schools activities.
SCORE is a project funded by the European Commission under the Horizon 2020 program coordinated by the Atlantic Technology University of Sligo (Ireland) and having as its objective the study of solutions to combat climate change in European coastal cities.
INSIDERAIN is a project funded by the Tuscany Region within the Regional Operational Program (Por) European Regional Development Fund (Fesr) 2014-2020, coordinated by MBI Srl and aiming at the creation of innovative tools and algorithms for the measurement of rainfall atmospheric.
The SCORE project participates in the event BRIGHT 2022 European Researchers' Night
ultima modifica:
2022-09-16T13:51:29+02:00
da